Details of each event are posted on the "Details of Events" page.

It will help the coordinators if you will make a note of your elementary school when you post your information on the Classmates page.

Historical information about each school in this section, courtesy of the St. Louis Park Historical Society. http://slphistory.org/schoolspublic/

For more information about all the schools that have been utilized at one time or another, go to http://slphistory.org/earlyschools/



Brookside School
Click on this link for additional information and photos.


http://slphistory.org/brooksideschool/
Brookside School was the brainchild of the South Side Civic Club (later the Brookside Civic Club), which first organized on May 4, 1921. A neighborhood school was the group's first priority, and they resolved to vote against a proposed $90,000 Lake Street Bond Issue for a school until Brookside had a school. They prevailed, and Brookside School was built in 1921 at the corner of Aurora [Vernon] Avenue and Isabelle [41st Street] as a four-room building facing 41st Street.

At the meeting on December 13, 1921, members voted on the name Brookside over Minnehaha, Taft, Backus, and Brookdale. (Backus was the name of the dentist who built the house at 4230 Vernon in 1915.)

Brookside has served as a church meeting place, voting station, fallout shelter, and WWII ration book and stamp distribution center.

On January 25, 1926, a bond issue of $35,000 to enlarge Brookside School was passed in a landslide. The school was expanded to add four more classrooms. It was at this time that the current front doors were built.

On March 9, 1954, the female members of the Brookside PTA enjoyed a fashion show sponsored by Cook's Family Apparel (Miracle Mile), while dad was invited to a "smoker," where the men would view a film on fishing and enjoy "He-Man" refreshments.

On May 21, 1954. the Brookside PTA's annual carnival drew 3,000 people for a night "Under the Big Top." The carnival featured a freak show, fishpond, a variety store, miniature bowling, merry-go-round, and airplane and auto rides. Little boys could be made up as clowns, and little girls could be made up as movie queens.

Also in 1954, Dr. Francis Gamelin, child psychologist, mental hygienist, and senior counselor at the University of Minnesota spoke about behavior characteristics and emotional stability in the Grade School-age children. His topic was "Children Need More Than Love."

On February 8, 1955, the Brookside PTA sponsored a Style Show featuring fashions by Roy H. Bjorkman, Inc. (women) and Juster Bros. (men).

On March 8, 1955, Mr. Philip E. Ploumen of the Hennepin County Home for Boys spoke to the Brookside PTA on "Boys in Difficulty." "Mr. Ploumen will discuss this all-important and daily increasing problem regarding juvenile delinquency, chief causes, general patterns it follows..."

No delinquents here: in 1955, Brookside won the 5th Grade Championship (Basketball). Ken Rasmusson was the captain.

The Spring carnival (May 21, 1955) promised no squirt guns and no balloons.

Governor Orville Freeman cut a birthday cake on March 13, 1956 at Brookside PTA's silver anniversary. He was the guest speaker on the subject "Problems of Education in Minnesota." Also on hand were Mayor Fernstrom and Superintendent Enestvedt. The 52-piece Hamline University Concert Band provided musical entertainment.

Brookside closed for good as a St. Louis Park elementary school in 1975 with a final enrollment of 304 students. A Farewell to Brookside program was held on May 4, 1975.

The building became Brookside Community Center, holding its Grand Opening on September 21, 1975. After talk of selling the school in 1994, it got a reprieve in October 1995 when Minneapolis leased the school because of a shortage of space in its own system. This arrangement continued for ten years.

Finally the School Board was forced to sell the building, fortunately to a developer who proposed to build residential space while keeping the physical integrity of the main building intact.


The Historical Society has some of the colorful mosaics that were placed above the pint-sized water fountains.

BROOKSIDE'S PRINCIPALS
Blanche Boyce: 1921
Ethel Baston: 1934-36
Erwin Welke: 1936 to 1943 (left middle of year)
Lucille Swelin: 1943 to 1968
James Wason: 1968 to 1972, 1973 to 1975
Gene Brack: 1972 to 1975

BROOKSIDE'S CUSTODIANS
1924: Mr. Harvey
1929: Mr. Murphy
1937: Edward Jenneke
1937-43: Fred Lupien
1948-73: Axel Peterson



Eliot School
Click on this link for additional information and photos.
http://slphistory.org/eliotschool/
There have been three buildings on the site. The first goes back to 1885, when the North Side School was built near the northern boundary of the township in the "Falvey District." (Louisiana Ave. was then called Falvey Street after the Falvey family.) It was a wooden structure, and was eventually sold for $150 and removed. A new North Side School was built for $6,700 in 1912-13. Also a frame structure, this building was destroyed by fire the night before the great tornado of June 2, 1925.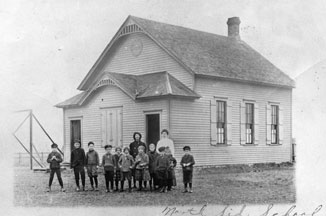 The new school was renamed Eliot and dedicated on April 2, 1926. A new janitor, Joe Koelfgen, would serve the school from 1932 to 1954. In the beginning, the school had only an auditorium in the basement, two classrooms on the first floor (the ones on the east side near the front door), and two unfinished classrooms upstairs. Grades 1-3 shared one room, and grades 4-6 were in the other.
In 1952, 20 more classrooms were added to accommodate the swelling numbers of families moving to the North side. The $825,000 addition was opened on March 4 of that year. The principal was Mary Towey, who had been a teacher at Brookside.
F

ern Hill
The first Fern Hill School, also known as the Lake Street School House, was built in 1905 at Minnetonka Blvd. and Ottawa Avenue. It was a square, red brick building with one classroom that was heated by a stove.







In 1922, the school was enlarged to eight rooms.


In 1950, a new building (see top of page) was built with the assumption that the old building would be abandoned. The new school was given the name Fern Hill. But demand for schools forced the Village to recommission the older building and it was renamed Park Hill. Students who attended Park Hill were puzzled when they could still see the Fern Hill name in shadows on the building. In the mid-'50s, the building was used for grades 1-3 only, with the older students going to the new Fern Hill.

In 1967, Park Hill was discontinued as a school, having served 62 years.

The second Fern Hill Elementary School was located at 2800 Joppa Ave. It was constructed in 1949 with 19 classrooms and two kindergartens, and opened on February 1, 1950. In 1982 Fern Hill II closed and eventually sold to Torah Academy.

Holy Family



Holy Family School opened in 1958 and operated successfully until 1991 when, due to dropping enrollment and considerable facility needs, it was closed. In 1999, work began to re-open.
In 2001, newly refurbished and ready to meet the needs of a growing Catholic community, Holy Family Academy opened its doors to 58 students.
Lenox
Lenox Elementary School was located on land that had been Jemina Goodrich's farm. The four room school was built in 1925.

The Lenox PTA was the first PTA in the Park, starting on September 16, 1929 with 40 members.

In 1946, 16 more classrooms were added. Children attended Lincoln School while construction was underway. The school reopened in the fall of 1947.


In the years from 1954-1957, enrollment surpassed 1,000 students. In 1959, there were over 500 members of the PTA.

In 1972, the building was decommissioned as a school. By 1976 it was empty, but on September 27, 1979 it was dedicated as the home of the St. Louis Park Senior Center.

LENOX PRINCIPALS
Miss Kuske
Miss Heinrichs 1933-1946
Miss Beck 1947-1962
Mr. Posthumus 1962-1964
Mr. Sandberg 1964
About 1970
Oak Hill
A two-room brick building was built in 1918. In 1920 the building was wired for electric lights. In 1924, four classrooms and an activities room were added. More additions were made – a picture from the 1920's makes the facility look like it is two building facing different directions.
1925
Mrs. Halsey Hall was one of the teachers in 1926. Mr. Halsey Hall refereed for Park baseball games. In 1952, Park Knoll was built, and Oak Hill served only grades 1-2 and a "trainable class." In 1955 there were about 100 students. Oak Hill was transformed into offices in 1972, and the school was decommissioned altogether in 1974. It was demolished and the site is now a duplex.
Park Knoll



Park Knoll School was built in 1952 with 20 classrooms. Despite a petition submitted by the Federation of Teachers to name the school after Ethel Baston, it was dedicated as Park Knoll on September 29, 1952.

In June 1978 the school was sold for $750,000 to the United National Corporation, New York, the developers of
Knollwood Shopping Center
,

to be used as a parking lot for Montgomery Wards.
* Information provided courtesy of the St. Louis Park Historical Society: www.slphistory.org